Hi guys,
As I said in yesterday's post, I am flabbergasted that it is March already! I am so excited about this month because I have decided to try and post every day in the month of March. I hope it works out because I am so excited to try and do it because I managed to do it last year but I do have quite a bit of uni stuff to do this month, so I pray I will be able to manage it all. I hope you look forward to my daily posts filling your reading tab. Enough rambling: let's cut to the chase…
Course Reading:
This month I have 5 books and 1 collection I have to read for my classes. I have linked all of them to their Goodreads pages as per usual.

The first is Lolita by Vladimir Nabokov. I am oddly excited for this because people say it's so shocking and gripping – and that sounds like an interesting read to me.

The Second is Ariel by Sylvia Plath. I have no concept of what this is about, which is nice because I will have a completely open mind for when I finally pick it up.

The next is Heart of Darkness by Joseph Conrad. Not only do I have no concept of what this is, but I've never even heard of it…this is meant to be a controversial classics course – surely I am meant to have at least heard of it XD.

After that it is Giovanni's Room by James Baldwin. Another one I am not too sure on the plot of, but at least I've heard of this one.
The fifth is an odd one because it is The Norton Collection of Shakespeare – so I don't have to read it all but I have to read bits and pieces so I felt like I should include it.
And the final book is We Are All Completely Beside Ourself by Karen Joy Fowler. This one I have read the blub of and actually sounds right up my street:
What if you grew up to realise that your father had used your childhood as an experiment?
Rosemary doesn't talk very much, and about certain things she's silent. She had a sister, Fern, her whirlwind other half, who vanished from her life in circumstances she wishes she could forget. And it's been ten years since she last saw her beloved older brother Lowell.
Now at college, Rosemary starts to see that she can't go forward without going back, back to the time when, aged five, she was sent away from home to her grandparents and returned to find Fern gone. 

Continued Series:
The second is Matched by Ally Condie, which I started reading last month but didn't finish. So I hope to get to this will definitely be one of my first reads this month.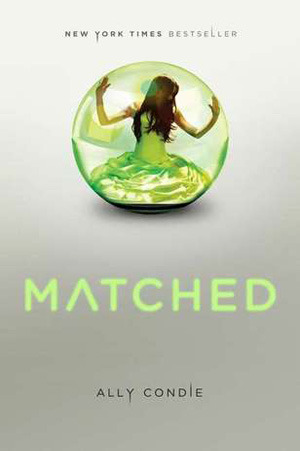 In the Society, officials decide. Who you love. Where you work. When you die. Cassia has always trusted their choices. It's hardly any price to pay for a long life, the perfect job, the ideal mate. So when her best friend appears on the Matching screen, Cassia knows with complete certainty that he is the one…until she sees another face flash for an instant before the screen fades to black. Now Cassia is faced with impossible choices: between Xander and Ky, between the only life she's known and a path no one else has ever dared follow—between perfection and passion.
So that's all I plan on doing over the month of March. It's not too long mainly because I plan to post daily here, I have many an essay due and because I am trying to finish the first draft of a novel this month before I go off for Easter, so I was trying not to overload myself with reading too. I want to hear what you guys plan on reading in the comments below. Anything I need to add to my list ASAP?
Have a good month!